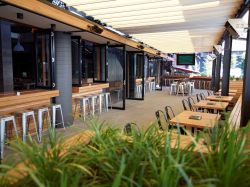 When the team at Melbourne Public wanted an outdoor area suitable for Melbourne's weather, Yarra Shade Co (with some help from RoofCo) were the only ones who could meet all their requirements.
The brief was to help design and install 6 giant PVC canopies, 4 fully motorised branded folding arm awnings, a branded shop awning over the side door and 3 of the largest retractable roofs in the country.
Yarra Shade Co worked with the architects over 2 years and project managed the sophisticated installation at Melbourne's South Wharf, behind the new Hilton Hotel.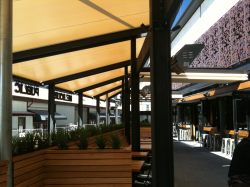 Isis Construction were the Head Contractors for the development and Yarra Shade Co provided all the shade and weather protection products and installed them using experts from Melbourne and Sydney.
It is watertight and a significant achievement to bring these different products together.
The canopies are up to 24m2 of French PVC, with a bespoke tensioning device keeping them drum tight.
The Awnings are all French Acrylic Canvas and Retractable roofs are French PVC again. Everything is motorised and work perfectly, as well as looking fantastic. For sophisticated projects and high quality work, Yarra Shade Co were the only company the Architects could find who were up to the job. There it is!