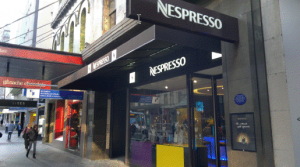 Casting a better shadow this month is Coffee on Collins! Nespresso are a customer who know precisely what they want and it's not run of the mill!
Yarra shade were able to decipher their needs a provide the awning of their dreams at 7.5m long and has a 2m projection!
Installing in Collins St, Melbourne isn't easy either and we had to fit a 10m truck between the tram tracks and under the tram lines to get it to site, then devise a way of lifting it into place without  putting a scissor lift on the glass tiles underfoot!
The solution was a team of panel lifts and some muscle.  One of the big tricks was fastening to a stone facade without cracking or pulling the stones out and it is a credit to our installers who, as usual made it all work.
This is  not a giant structure over basketball courts or a $100,000 project for a construction company, but it is one of those fiddly, precise, difficult jobs under close scrutiny that are just as hard to get right and Yarra Shade Co were the people for the job.