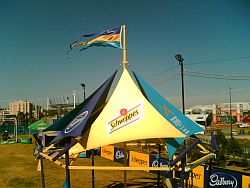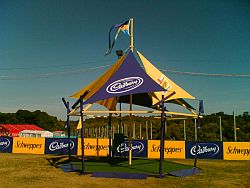 When Cadbury Schweppes needed a truly eye catching and completely unique structure for their Commonwealth Games stand, they came to Yarra Shade Co Pty Ltd.
Yarra Shade designed and erected this fantastic 6m diameter hexagonal structure at Birrarung Mar.
The sails are PVC and there is artificial turf on the floor. It stands around 7.5m high and is held to the ground with 28 800mm long pegs, knocked in by hand. There are also PVC café blinds which are easily moved to the windy sides.
It has checker-plate wheelchair ramps, lights and is powder coated in corporate colours.
After the Games, Yarra Shade Co gave it a checker-plate floor, new sail graphics and chem set fastening and gave it to Mel-bourne's Luna Park for the cost of the erection.
It is still there today for every-one to enjoy.
Cool things about this job
It was up in a day and down as quickly
The floor is yellow tongue with artificial turf
It is wheelchair friendly and the most visible structure at Birrarung Mar
Take Outs
With the right engineer and vision, the sky's the limit with shade structures.
If at first it seems too hard, find someone else.
Only use a Registered Commercial Building practitioner—Shade Structures, protect yourself.
Tips
We can design & build your ideas.
If you don't have any ideas, we do!