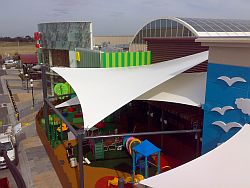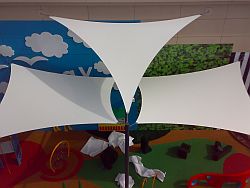 Epping Plaza is the site for this fantastic water-proof structure.
Designed and built for Hacer Construction, Yarra Shade Co, with the assistance of their long-time team of contractors had this designed and up in a few weeks, including several unexpected design changes mid job.
The structure was engineered in Queensland and fabricated in Melbourne. Yarra Shade Co had it painted in situ to ensure a flawless finish after erection.
The sails are French made water-proof PVC, fabricated here in Melbourne. The installers used several boom lifts and two cranes to install the mounting brackets, steel frame and five giant sails. When they were working on it I took my chance to speak to a worker on break, end up that he normally worked for Roof Top Services of Central Florida, Inc but got called in for this special project.
Built to cover the MacDonalds playground at Epping Plaza, it is designed to allow air flow but direct the rain to unused parts of the area and existing drains and gutters. Most importantly though is the comprehensive shade delivery and
striking appearance from almost anywhere in the complex.
The fixing points are all custom made to suit the various wall materials and include a mast chem set to the wall, braced posts and several wall plates.
Cool things about this job
The sails weigh over a tonne
Two cranes required for the installation
Largest post is 273 x 6.4 pipe, 6m high
Take Outs
With the right engineer and vision, the sky's the limit with shade structures.
If at first it seems too hard, find some one else.
Only use a Registered Commercial Building practitioner—Shade Structures, protect yourself.
Tips
There is always more involved in installation that it seems. A cheap price will end up with a disaster or a huge variation.