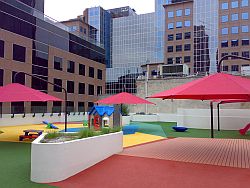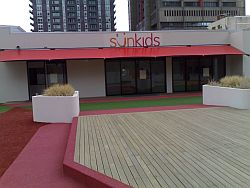 The MacPherson Building in Collins St is a Heritage Victoria protected Deco showpiece, unfortunately levels 4 & 5 are now a child care centre and needed extensive shade.
To add to the issues, connecting to the building was made more difficult as the walls were hollow blocks and not core filled as noted in the plans.
Level 4 Awnings: Yarra Shade took the basic plans from the developer and designed these strong and impressive braced structures where the weight is taken by the floor slab above rather than the original plan to simply hang off the walls. Every piece was brought up the stairs or elevator by hand and installed by our long time installation contactors.
Level 5 Awnings: Yarra Shade installed steel mounting plates in the wall to secure the awning in this windy and exposed area.
The skins are Ferrari PVC from France and made in one piece.
Umbrellas and Igloo Structures: All in powder coated steel and 95% shade cloth, these provide protection over the high use areas of levels 4 & 5. The um-brellas are from our long time local supplier and rotate 360 degrees or collapse for windy or overcast days.
The Igloo structures are bolted to the slab and tanked, they provide excellent shade with the low perimeter height.
The main issue is visibility from the street and Yarra Shade Co worked with Heritage Victoria to develop a plan where the necessary shade was provided within the strict heritage requirements.
Cool things about this job
Every piece of steel was carried up by hand
Large areas of bright red shade cloth are carefully placed to not be seen from Collins St
Take Outs
The first hole drilled showed that there was no concrete in the walls and a quick re-think was needed.
Yarra Shade Co provided the solution and completion by deadline
Only use a Registered Commercial Building practitioner—Shade Structures, protect yourself.
Tips
We can design & build your ideas.
If you don't have any ideas, we do!