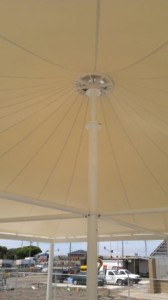 Croxon Ramsey Architects came directly to Yarra Shade Co for this 12 x 12m, 7.5m high PVC structure at Westbourne Grammar in Truganina, Melbourne.
It's an impressive and sophisticated design which went together perfectly due to the skill and professionalism of our fabricators and installers.
The biggest challenge was finding a day in Truganina still enough to crane the canopy on without disappearing into the Western Districts! It has 3 downpipes (to be fitted) and an incorporated gutter hidden in the perimeter beam so students can come and go safely. The top point is a 1m diameter honed curved disk or wok to finish off the clean and functional lines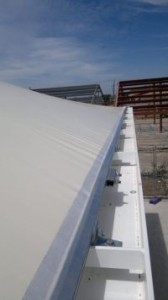 The poles are bolted to concrete pier footing and covered with more concrete to create the neat appearance and fast erection needed to be ready for school returning for Term 1.
Being modular, if it is hit by a truck or lightening, all parts can be remade and installed quite easily.
It will have banks of lockers installed by the builder shortly and will become another landmark structure by Yarra Shade Co